Purchase Now
Sally Fernandez is a novelist of provocative political thrillers that twists facts with fiction. Author of "The Simon Tetralogy" and the new "Max Ford Thriller" focuses on contemporary unvarnished political facts in a fast paced
fictional setting.
Purchase Now

Literary Scene
by Ryan G. Van Cleave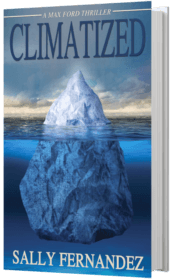 Sarasota author Sally Fernandez's new book, Climatized, delves deep into the issues of climate control and global warming. This new series' heroine, Maxine Ford, quickly realized that politicians might stop at nothing to push their own climate agendas forward.
Here's how it starts. Freshly retired from the intelligence world, Ford starts up an investigative firm because what else does a natural-born sleuth do with spare time? Things kick off fast when Florida Republican senator Sherman Spark is found dead in Lincoln Park. Sure, the police quickly deem it a suicide, but the late senator's wife doesn't buy it. So, she hires Ford to get to the truth, no matter what. Ford soon learns that three world-renowned scientists also met recent untimely deaths. Worse, a fourth has gone missing.
What if Ford proves that politicians are behind it all? What if solving the murders and the kidnapping means sending the world economy into a trillion-dollar tailspin?
Fernandez considers herself a political junkie, and it shows in her research again and again. Read the Foreword by Dr. Harold Doiron (Chair of The Right Climate Stuff research team) for more evidence of this fact. The book rings true in a lot of ways, plus the writing is compelling throughout. Give this provocative thriller a chance to wine you over.
This book was ranked four out of five cups of coffee! December 2016, Page 105

Ruby's Rap 


by Ruby Comer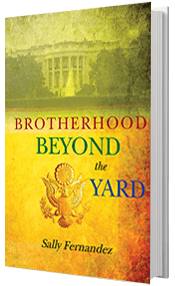 A&U Magazine Interview by Ruby Comer in her Ruby Rap's column. Questions and answers highlight the recent release of Brotherhood Beyond the Yard by Sally Fernandez; the first release in "The Simon Trilogy."
Whatever "Simon says" you best take heed! Simon is a relentless, conniving, and conspiring character in my galpal Sally Fernandez's recently published political thriller, Brotherhood Beyond the Yard. (Sally's pen name is Jordan Ames and there's buzz that the book is headed for the big screen.)
The alarming plot, under Simon's manipulation, will have you wobbling in your Marc Jacobs spiked pumps. The cool, calm, and collected Simon is a mastermind, sort of like Sally. I mean, when this girl puts her mind to something—like writing this first novel—it gets done.
Mostly reared in Portland, Maine, via Virginia (near Washington, D.C.), at twenty-one she left college and moved to New York City "looking for the bright lights." Her first job was as an au pair, and since then, she's dabbled in, and become an expert in, banking, computer technology, and business consulting. A world traveler, this cosmo beauty lived in Hong Kong for several years working for J.P. Morgan to develop strategic plans for their technology groups. While there, Sally became a patron and volunteer with the Po Leung Kuk Orphanage.